Flower Delivery Service
We deliver flowers in Bourne, Lincolnshire and surrounding areas including Spalding, Market Deeping and Stamford from 9 am to 5 pm, Monday to Saturday.
Same day delivery is available on orders received by 1pm with a £2 additional charge. If you need same day delivery after this time call us as we may still be able to help you.
Unfortunately we are unable to guarantee timed deliveries, if you require either AM or PM delivery there will be a surcharge of £4.00.
Please make sure to select the correct delivery zone and time to prevent a delay on your order.
Local delivery areas
See below for a map of our local delivery areas. As well as Bourne we deliver fresh flowers to the local surrrounding Lincolnshire area including Market Deeping, Pinchbeck, Spalding, and Stamford.
Flower Delivery Charges
We have a small delivery charge depending on the location of the delivery. These charges are as follows:
Local Delivery
Bourne & Zone 1 - £4.00
Zone 2 - £4.95
Zone 3 - £6.50
Zone 4 - £8.50
Zone 5 - £9.50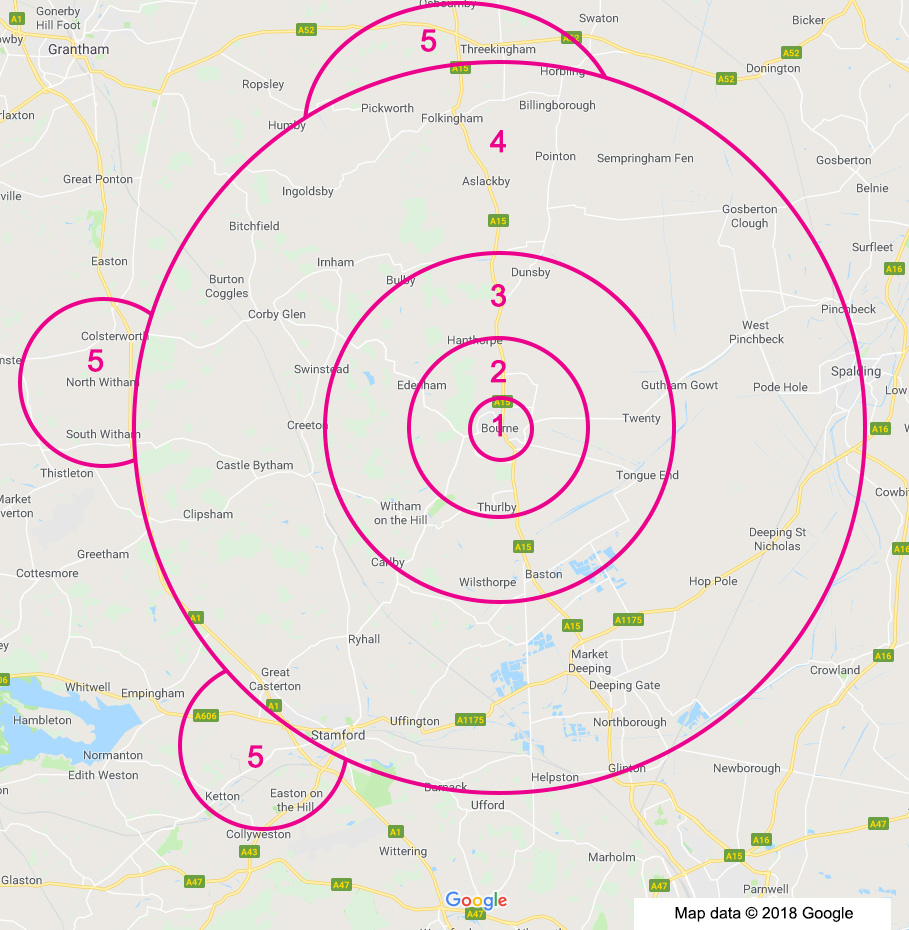 Stamford
, Market Deeping
, Spalding
, Thurlby
, Baston
, Edenham
, Scottlethorpe
, Little Bytham
, Castle Bytham
, Clipsham
, Corby Glen
, Folkingham
, Threekingham
, Uffington
, Great Casterton
, Easton on the Hill
, Ketton
, South Witham
, North Witham
, Colsterworth
, Bulby
, Billingborough
, Horbling
, Aslackby
, Deeping St Nicholas
, Pode Hole
, West Pinchbeck
, Burton Coggles
, Pickworth
, Gosberton Clough
, Deeping Gate
, Deeping St James
, Maxey
and Northborough